According to UN Water, more than 4.2 billion people in the world live without modern sanitation. Without safe collection, storage and treatment of wastewater, billions of people end up using contaminated drinking water sources, and are at a much higher risk of contracting avoidable infections and diseases. This particularly impacts child mortality rates in the developing world.
As its commercial arm, we're excited to translate South East Water's innovative solutions to developing and regional communities, and make an impact towards the United Nations' Sustainable Development Goal 6: Clean water and sanitation for all.
In a world first, Iota has combined our OneBox® pressure sewer system with reedbed technology and solar power, to enable us to offer an off-grid wastewater collection and treatment solution which can bring health and social benefits to remote and developing communities.
South East Water adopted pressure sewer for its Peninsula ECO project, where the Melbourne-based utility is installing over 16,000 pressure sewer units to replace ageing and poorly maintained septic tanks on the Mornington Peninsula.
To monitor and control these pressure sewer units, South East Water developed OneBox® – the brains behind a pressure sewer network. OneBox® enables utilities to track and control the system in near-real time using Internet-of-Things (IoT) technology.
An early adopter customer Christchurch City Council has mandated OneBox® for their pressure sewer.
If you're going to have a pressure sewer system, why wouldn't you have a smart one?

BRIDGET O'BRIEN
CHRISTCHURCH CITY COUNCIL.
An early adopter customer But what about in places where power is unreliable, unaffordable or just simply unavailable?
We've successfully trialled a low energy wastewater collection and treatment solution for remote and developing communities – particularly where access to electricity is a challenge.
These trials, conducted over 15 months at South East Water's Boneo Water Recycling Plant, proved reedbed technology will treat sewage from a pressure sewer to produce the equivalent of Class C recycled water, even with varied quality of sewage inflow.
The reedbed system, designed by CJ Arms, used vertical flow reedbed cells in three stages to treat daily flows of 600-800 litres of raw sewage by mimicking processes that exist in nature already.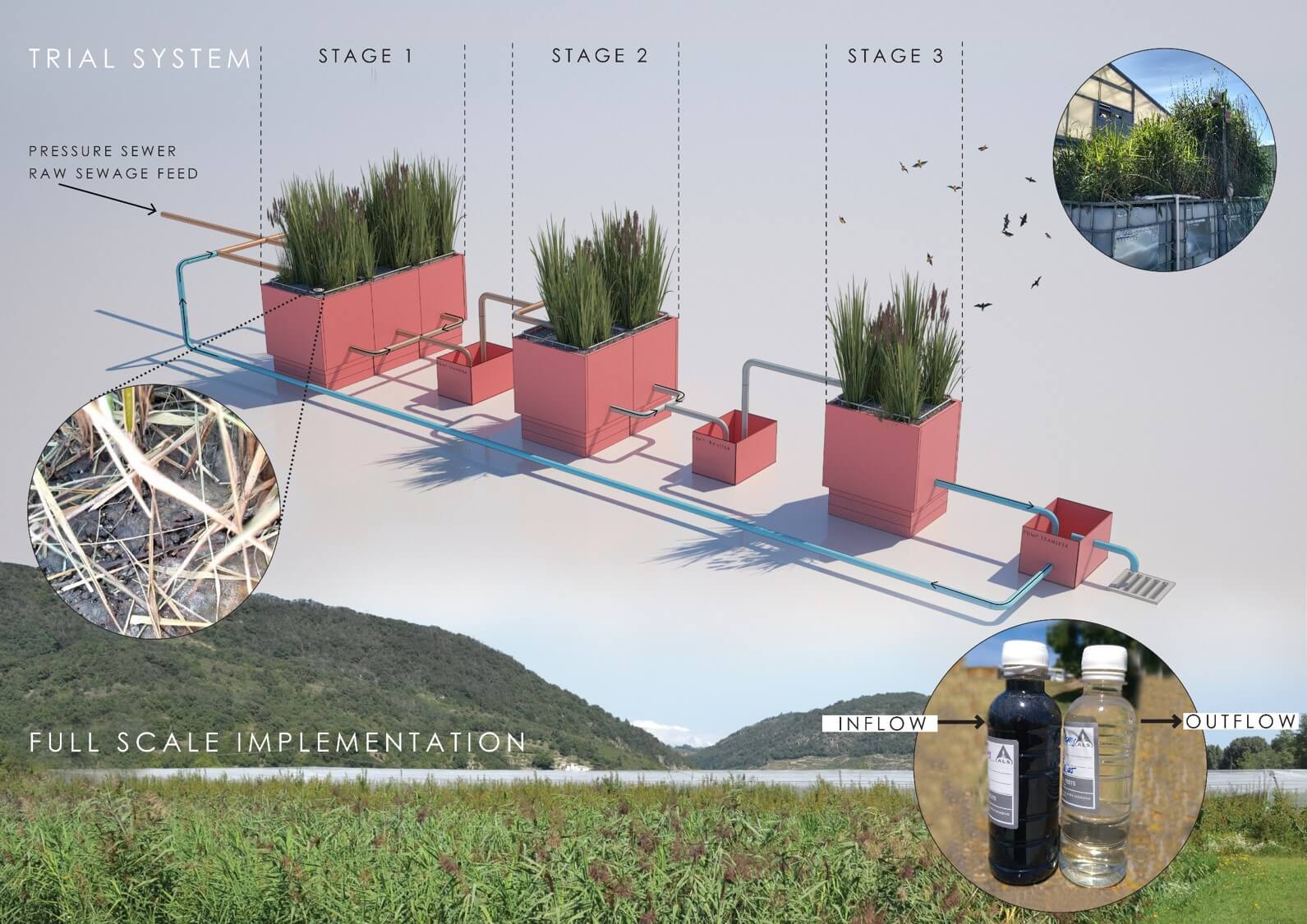 The reedbed wastewater treatment system, focuses on low-energy passive treatment techniques and low maintenance. The controlled flows from the OneBox® powered pressure sewer maximise efficiency and performance of the reedbed system and provides the perfect fit for a complete authority scale collection and treatment system.

DR PETER HARBOUR
SENIOR WATER SUSTAINABILITY SCIENTIST, CJ ARMS
A solar solution
In a separate project, South East Water partnered with Parks Victoria to install OneBox®-controlled pressure sewer systems at two toilet blocks in the Mornington Peninsula National Park.
With an electricity connection proving prohibitively costly, South East Water installed solar-powered pressure sewer systems at the national park sites instead.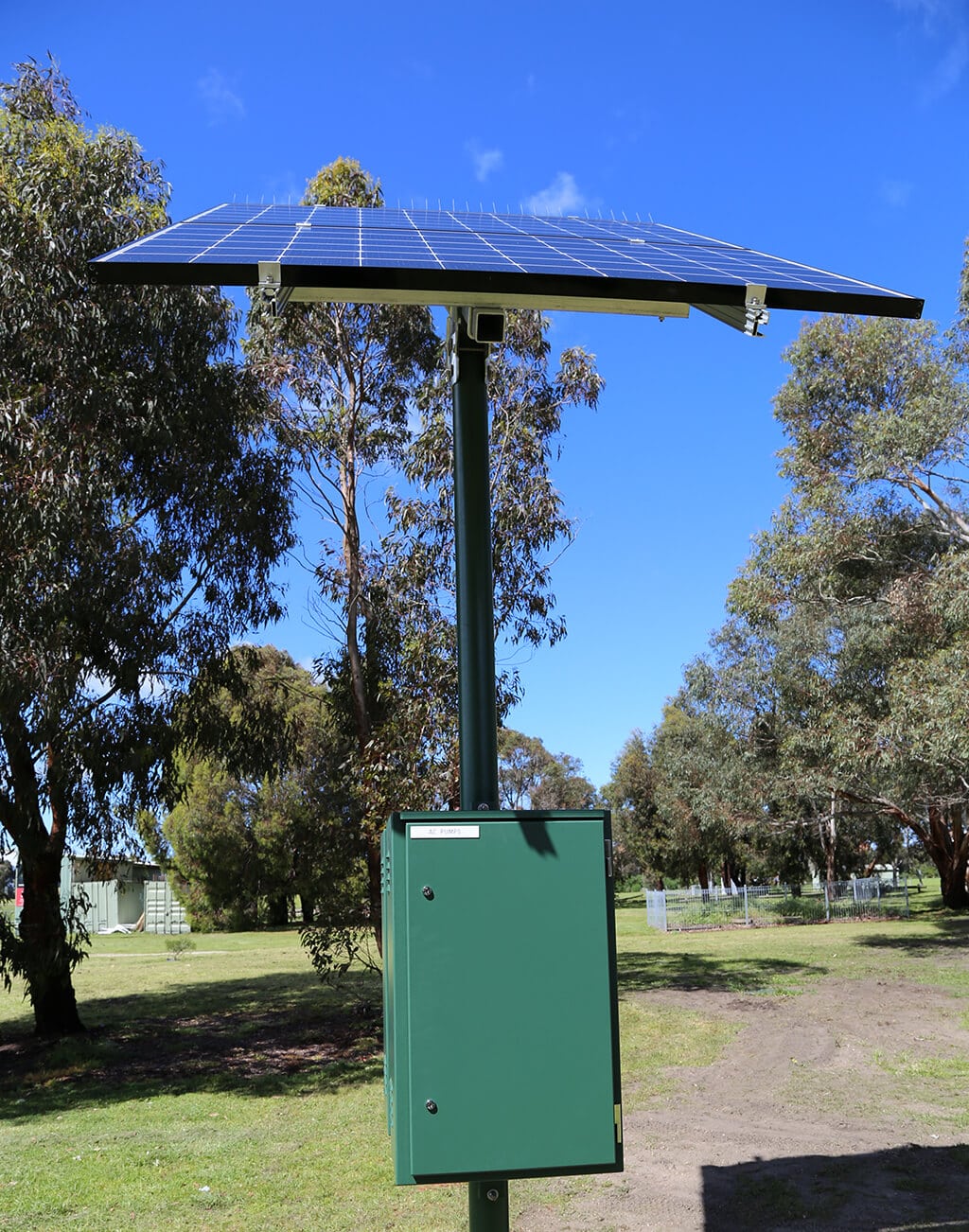 By converting OneBox® controlled pressure sewer to a solar energy system, we've been able to take it off the energy-grid. Now with the potential to link this with Reedbed treatment we can look taking it off the sewer-grid.

DR DAVID BERGMANN
RESEARCH AND DEVELOPMENT MANAGER, SOUTH EAST WATER
Using reedbed for RISE
The Monash University-led RISE project is another instance where reedbed technology is being used with OneBox®-controlled pressure sewer to safely collect and treat wastewater.
We're playing a pivotal role in RISE by providing equipment, including our OneBox® technology as well advising the RISE team and local operators.
The RISE program's provision of smart pressure sewer and reedbed wastewater treatment will contribute to health and social benefits for informal settlements in Fiji and Indonesia. For more information on this project, take a look at our RISE case study.
Putting it all together
These projects confirm the suitability of reedbed technology and solar-powered pressure sewer systems for off-grid waste collection and treatment in remote locations or developing communities.
South East Water has committed to contributing to the United Nation's Sustainable Development Goals, and this solution can contribute to Goal Six: Clean water and Sanitation for All.
This research means we're able to take our innovative solutions further than we've been before, and we look forward to partnering with utilities and other organisations to provide safe sanitation for communities regardless of whether they are connected to sewage or power systems.